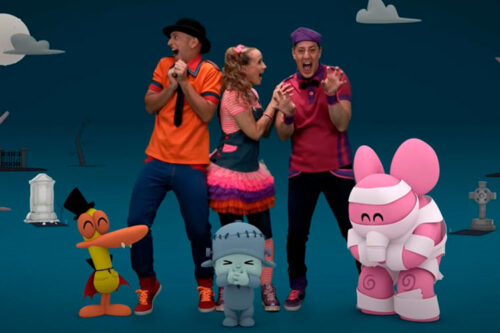 Pocoyo' line of collaborations with other brands continues to be successful. The latest one is the one carried out with the spanish group "Pica Pica", a children's music and theater company that has achieved great popularity among children after ten years of experience. Pocoyo, Pulpo, Pato or Elly celebrate Halloween with Belén Pelo de Oro, Emi Bombón and Nacho Bombín with the song "Trick or Treat", which has the characters of the series as special guests.
A new song so that the little ones can enjoy one of the most special and magical nights of the year, in which fun, laughter and scares are guaranteed.
The group "Pica Pica" is one of the musical groups for family entertainment most loved and listened to by children, both in Spain and in Latin America. Ignacio Repetto, Emiliano Müller and Belén Guijarro, actors, dancers and clowns, give life to the characters of Pica-Pica.
Pocoyo and "Pica Pica" together have more than twenty million followers on YouTube in Spanish, two great successful brands and an unstoppable career on the platform.