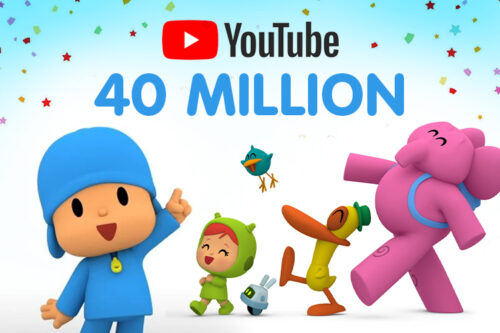 Pocoyo remains one of the most outstanding children's content in the digital environment. On YouTube, it has nearly 41 million subscribers and has surpassed 35,000 million views with its network of channels. HePocoyo is also the protagonist of several apps with more than 100 million downloads worldwide. 
The renewal of the content offering in the digital environment, always with proposals adapted to the visual language and the didactic and unique approach of the series, is one of the keys to the success of the series. In the last year, Pocoyo's presence on YouTube has also been reinforced with the launch of three new music channels (in Italian, French and German). 
One "Diamond" and 8 "Golden Buttons"
Pocoyo's success and unstoppable trajectory on YouTube has been recognised on numerous occasions. In 2021, Pocoyo's official Spanish channel, full of educational videos and songs, was awarded YouTube's "Diamond Button", a recognition reserved for channels with more than 10 million subscribers. Created in July 2007, the Official Pocoyo channel in Spanish is the oldest of the different official Pocoyo channels and the first to win this award.
Meanwhile, Pocoyó's English-language music channel, Nursery Rhymes, has been a "Gold Button" since 2021, and today has accumulated more than 1.5 billion views and 2.6 million subscribers. Its counterpart channel of songs in Spanish, with nearly 2.5 billion views and 3.9  million subscribers, also has this recognition along with six other official Pocoyo channels with more than a million subscribers each.