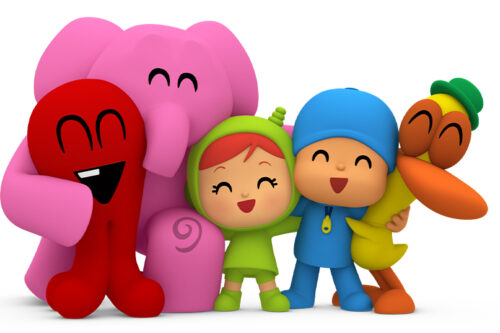 After two decades of history, Pocoyo is not only one of the children's brands with the greatest projection and audience success, it is also one of the most awarded in this segment.
Its unique narration, its white background, and animation technique along with characters that captivate the public have filled Pocoyo's treasure chest with more than 40 national and international awards.
Among them are prestigious awards from the audiovisual industry that have recognized Pocoyo as the best animated series. Thus, it has received the Cristal de Annecy, the most prestigious animation festival award in the world; the BAFTA Award from the British Academy of Film and Television Arts; and three Pulcinella Awards from the Italian Cartoons on The Bay Festival. In the latter case, in addition to Best Preschool Series, Pocoyo was recognized as Best European Program and Most Popular Series for Children.
Also internationally, Pocoyo has won the Corazón Award for Best Nickelodeon Animated Series at the San Diego Latino Film Festival. It was also the Special Jury Prize in the Television category at the China International Animation and Digital Arts Festival and the Special Animation Prize at the Italian Sea & TV Festival.
In the US, Pocoyo won the Gold Medal in the DVD category from the Parents' Choice Foundation and the "Gold" in the category of Best Children's Animation Promotion in Singapore from the Promax BDA organization.
Other major awards given to the series were the Kineo Award at the Venice Film Festival, and the Silver Award for Best Foreign Animated Series at the Shanghai Television Festival for the Pocoyo short film (Pocoyo and the Space Circus ).
Added to this list of recognitions is the Award for the Best Educational Preschool App for Tablet at the Kidscreen Awards for Pocoyo Playset: Let's Move, developed in collaboration with the North American organization HITN (The Hispanic Information and Telecommunications Network).
Spanish animation reference
How could it be otherwise, Pocoyo has also been a "prophet in his land". To the recent "Iris 2022 Award" from the Academy of Television and Audiovisual Arts and Sciences, we must add the Award for Best Children's Character at the El Chupete Festival; the Award for Best Self-Produced Animation Series at the Zapping Awards; the 3D Award at the Spanish Movistar Art Futura Festival and the FICOD Innovative Project Award (International Forum of Digital Content), among many others.