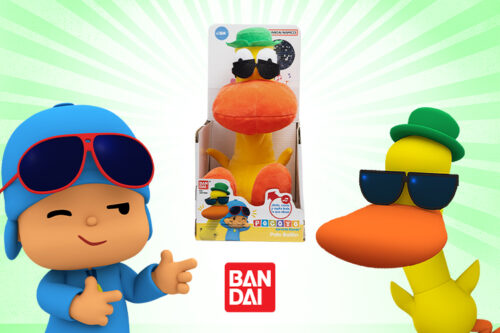 Pocoyo's Christmas toy campaign arrives this year with important innovations that reinforce our line of products aimed at preschool audiences. Toys, always fun, but with great didactic and educational components, a very important factor in the child's growth, and which are the hallmark of the series. In addition, thanks to the recent agreements signed by Zinkia with its licensees, this Christmas the number of references of Pocoyo products is growing:
Bandai, one of Pocoyo's unconditional toy makers, will continue betting on the property and it does so with a great release: "Pato Bailon", the first Pato Plush. After the latest successes of Pocoyo Magic Colors, and Pocoyo's Racing Car, we present this hilarious novelty for the little ones along with its offer of special stuffed animals. "Pato Bailon" reaches the younger segments and consolidates the current range of Pocoyo products distributed by Bandai, which continues to reap excellent results since its relaunch in 2020.
Clementoni also returns to the Pocoyo family with a wide assortment of new Puzzles. Claudio Reig has a wide range of musical toys for the delight of our mini-musicians, and Comansi offers a complete range of figures of the series' characters. And all this without mentioning the offer of clothing and accessories available exclusively at El Corte Inglés to dress the little ones in clothes with their favorite character. The new Pocoyo children's fragrances, exclusive to Natuaromatic, are also available in perfume shops and in different points of sale, while Royal Talens and CyP introduced all kinds of writing, drawing and art supplies.