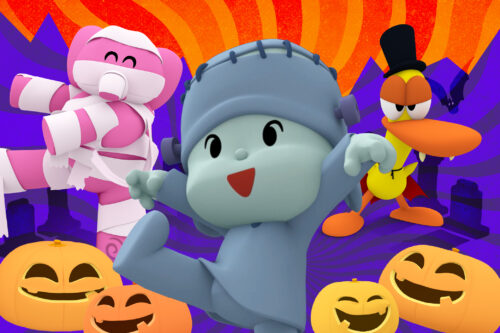 Halloween is one of the most anticipated holidays for children and a real event in many countries. For this reason, at Zinkia we have made different proposals in which there will be no shortage of pumpkins, ghosts, vampires…, so that the little ones can have a great time with Pocoyo and his friends.
YouTube special. As on other occasions, we have launched new content on YouTube to celebrate this date in both Spanish and English.
Among them, the special "Day of the Dead", with more than 121 minutes that includes chapters such as "Elly's Auntie Fanty", "The terrifying spectacle of Pocoyo and Nina" or a "Very Martian Halloween".
EN: https://www.youtube.com/watch?v=7Pn6LW774EI
https://www.youtube.com/watch?v=7Pn6LW774EI
The little ones will also be able to enjoy the Halloween Special, with more than 121 minutes of fun and 20 episodes such as "The Halloween Elf Mask", "The Mystery of the Monster", "Halloween Disco" or "Halloween Stories", among others.
https://www.youtube.com/watch?v=FzAymk_gIEs
Pocoyo Halloween app. We also have the Pocoyo Halloween App available on the App Store and Google Play so that children can enjoy the Halloween party with Pocoyo and his friends with games and songs themed around the celebration.
An application that, in addition to guaranteeing fun, helps the development and eye-hand coordination of children, improves concentration and excersizes fine motor skills, while stimulating them with its colorful images and sounds. This children's game is also available in Spanish, English and Portuguese, making it ideal for learning different languages.