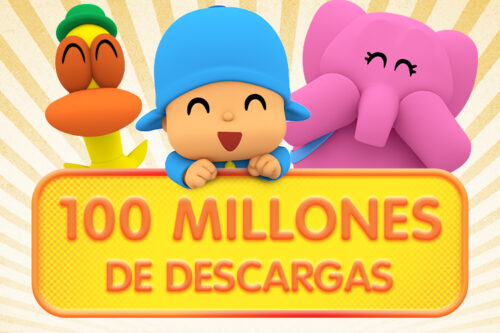 Pocoyo continues to gain success day by day, consolidating  as one of the children's brands with the highest audience and influence in the digital environment. A success that is increasing and that makes him break his own records.
The character's mobile apps have just surpassed 100 million downloads for iOS and Android. A figure that marks a new historical milestone since the launch of the first application of the character now more than a decade ago.
Pocoyo is the undisputed protagonist of different educational and entertainment apps that contribute to the learning and enjoyment of the little ones. The apps are not only successful in Spain, but also cause a sensation in Brazil, Mexico and the United States, countries with the highest number of downloads. Talking Pocoyo, Pocoyo Colors, Pocoyo Disco, Pocoyo Dentist, Pocoyo Racing, or Talking Pocoyo Football are just a few examples from its long list of applications.
Development of new apps and new updates
Zinkia is constantly working on the development of new apps and updates to renew its wide offer in the main download stores such as the App Store and Google Play. One of its latest novelties is the new update of "Talking Pocoyo 2: 3D Adventure" on Android (soon on IOS), in which there is no shortage of new games and scenarios in which the little ones can learn to speak and interact even more with his favorite character -play, dress him, feed him, etc,-. Likewise, the functionalities of the app are improved, while the security and privacy of the contents are guaranteed.