Si quieres leer este artículo en español haz click aquí
POCOYO has published for the first time exclusive Easter content simultaneously on his YouTube channels in five languages: Spanish, English, Portuguese, Italian and German.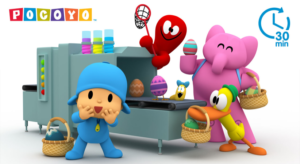 The special 'Pocoyo and the Easter Eggs' includes a new brand episode and has hit the milestone of 10 million views in only 10 days.
In addition, the video became viral. It has been a trend on YouTube in different territories like Spain, Mexico, Peru or Costa Rica.
POCOYO keeps reinforcing his presence on YouTube, where he has 6 million subscribes, more than 8 billion views and it is also the platform where the New Season is been exclusively broadcasting.