Pocoyo was one of the protagonists of the YouTube Kids party in Madrid
A few days ago, the App YouTube Kids was introduced in Spain with an exclusive event for parents, kids and Social Media Influencers.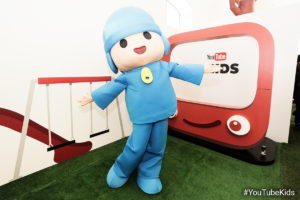 Pocoyo, who is already a star on YouTube,with more than 7.000.000.000 views, had a very important role in the event. Children were able to have fun, dance and take photos with him.  Besides that, there were a lot of activities to do: Robotic workshop, experiments and Pocoyo Arts & Crafts!
The goal of the event was to present YouTube Kids to parents and explain to them the App's features: Parental Control, timer, voice browser and an interactive design totally adapted to Children.
A lot of public figures attended the party, as for example; Tony Aguilar, a famous Radio Announcer, or Joaquín Reyes, a spanish comedian. Both had a fantastic time with Pocoyo while they shared pictures with him on Social Media.
Kids and parents had a great time. The event closed with a funny concert of the Billy Boom Band and every kid went home with a Comansi Pocoyo figurine, as a present.