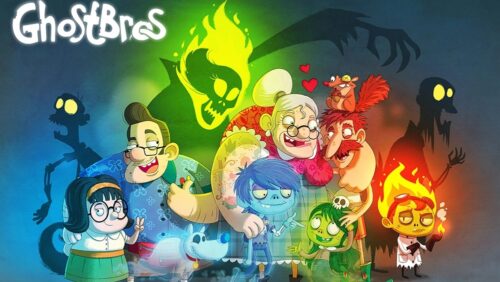 At the main event of the children's entertainment industry, Kidscreen Summit 2023, which took place on February 12th-16th in Miami, USA, Zinkia introduced one of its new animation projects: Ghost Bros. The series, created by Yellow Kingdom (Chorch Edelstein) and WeDoo Studio (Emi Ordás), is aimed at audiences aged 6 to 8 and comprises 52 episodes lasting around 11 minutes.
Ghost Bros approaches the concepts of family and happiness through the exciting story of two orphan siblings, Sigmund and Gretchel. After being adopted by a dysfunctional family, they experience hilarious adventures while seeking to ensure that every member is happy, since otherwise they will have to return to the terrible place from which they escaped: the Great Beyond. 
In addition to this new production, Zinkia chose Kidscreen Summit 2023 to offer a preview of the fifth season of its hit series Pocoyo, which included some significant changes and new characters like Pocoyo's sister, Pocoyina.
Pocoyo is currently celebrating his 20th anniversary, an extensive trajectory in which he has starred in four seasons and over 200 episodes, as well as the short "Pocoyó y el Circo Espacial" (Pocoyo and the Space Circus), over 80 songs and music videos, and multiple specials. One of the most notable is the episode "Dragon Island," a co-production with the Tourism Board of Gran Canaria, in which Pocoyo left his white universe for the very first time to visit this Canary Island. 
Development of the catalogue
In parallel, Zinkia is developing the rest of the IPs in its portfolio. One of these is Yanco, Dina y los Dinosaurios, which portrays environmental protection and wildlife conservation from an original perspective, aimed at audiences aged 6 to 8. Another significant project is Bumpy: the Bear, a series that is being co-produced with RTVE, Spain's national broadcaster, and which is expected to begin next spring.