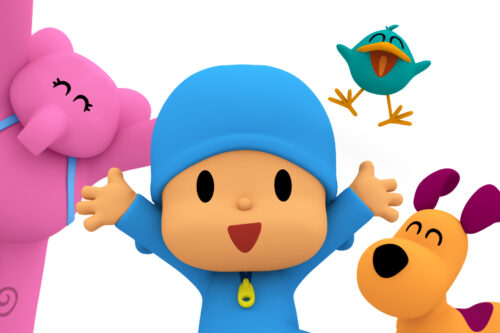 Pocoyó remains unstoppable and reaping great successes. 2021 in particular has been a key year for Zinkia and undoubtedly one of the best years for Pocoyó. The good figures achieved at the end of the year confirm the success of the brand and its strength as one of the children's characters with the greatest international projection and best audience success.
Zinkia thus closed 2021 as the best year in its history after doubling its revenues, to reach 9. 8 million euros. It also improved its Ebitda (4.05 million euros) by 183%, compared to the previous year.
In 2022, Zinkia embarked on an ambitious expansion plan to expand its portfolio of properties to diversify its business. The first step in this strategic line was taken at the end of last year, after signing an agreement with the Canarian animation studio KOYI Talent to acquire 100% of the company, thus adding three new brands to its content: "Bumpy: The Bear", "Ghost Bros" and "Bugsted. " Zinkia is also working on Yanco&Dina, a new title that will be released in June of this year and on which the company has high hopes. On the other hand, the pre-production of the fifth season of Pocoyó has already begun which brings important novelties, such as a subtle redesign of Pocoyó and his friends, the incorporation of new characters, and some surprises that will be revealed in the coming months.
Pocoyó's global presence grows on its 20th anniversary
Pocoyó also commemorates in this exercise its 20th anniversary and it does so in full swing. Currently, Pocoyó can be watched in 150 countries, among open-air TV, cable TV, VOD, and its OTT platforms in the United States.
A global audience that has gained momentum in recent months after Zinkia closed two new broadcasting agreements. The most recent is with Disney+, which for the first time incorporates the series to its contents in several European countries. Additionally, the agreement reached with HBO for the United States, Latin America, and EMEA and the renewal of its agreement with Netflix and Rakuten TV. These are in addition to the presence that the brand already had on a total of 25 platforms among which are other giants such as Amazon.
At the same time, television stations around the world have continued to rely on the series for their children's programming, and in 2021 channels such as Panda (Portugal), Rai Yoyo (Italy), TV Azteca (Mexico) and TVE renewed their commitment to Pocoyó by acquiring the new episodes of the latest season produced.