Si quieres leer este artículo en español haz click aquí
The free version of the app: POCOYO ALPHABET, developed by Zinkia, hits more than 2 million downloads.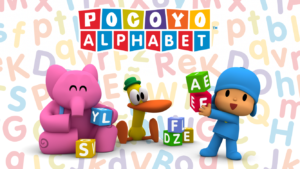 The app that was launched last September, is an interactive ABC's with which children can learn the letters while playing. Tracing a dotted line, kids can draw with their fingers in both uppercase and lowercase, thereby, getting started in writing and improving their psychomotor skills.  
The child will also discover what words referring to objects and animals begin with the letter selected. POCOYO Alphabet contains audios and texts in English and Spanish, so it also helps children learn new languages.
The app has been very successful up to now. It has more than 5000 reviews on Google Play and the Apple Store and 4,1 / 5 rate. These are some examples:
"My son son learnt the ABC's in English before turning 3 and we only speak Spanish. We need to learn with him! The App is awesome!" 
"This is a wonderful app, I have a 6 years old autistic son and POCOYO ALPHABET helps him a lot with forms and sounds. Colors are nice and it's easy to understand, Well done!"
Reviews like these, prove that Zinkia, one of the world's top developers of mobile content for kids, keeps reinforcing its work in edutainment.