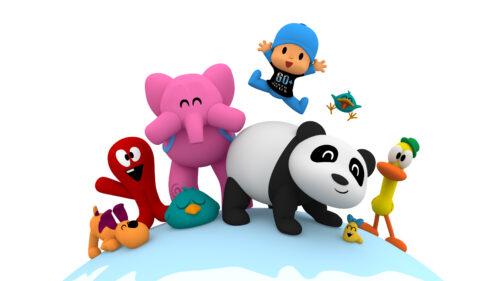 One more year, Pocoyo has become the "Children's World Ambassador of Earth Hour 2022, the largest global movement in favor of the conservation of our planet created and championed by WWF, which was celebrated last Saturday, March 26, from 8:30 p.m. to  9:30 p.m.
In this edition, which celebrated its 16th international edition (14th Spanish edition), WWF asked all citizens, organizations, companies and sports clubs to register and join the #KMPorElPlaneta (Kilometers for the Planet) challenge.
The challenge invited you to go around the planet to promote sport and its values, whether walking, running or doing any other physical activity until you virtually add up to the 40,000 kilometers that make up the perimeter of the Earth. A challenge that has been well exceeded, just a few days before celebrating "Earth Hour", with well over 200,000 kilometers registered,  more than five times around the planet.
Likewise, between 8:30 p.m. and 9:30 p.m., WWF invited everyone, as every year, to turn off the lights during Earth Hour, a symbolic and decisive gesture that becomes a global demonstration in favor of the preservation of the planet.
Move around the planet with the videos and songs of Pocoyo!
As the children's ambassador for "Earth Hour", Pocoyo has also wanted to join the challenge to "Go Around the Planet". The objective is to teach the little ones that there are many ways to take care of our future and the future of the planet through new videos, songs and an activity book, among other educational tools, which help raise awareness from infancy to race against climate emergencies. Among the videos and songs available on YouTube, in addition to the specific content on this year's #LaVueltaAlPlaneta and a 124-minute special entitled Muévete por el planeta, different topics are also addressed, such as trash recycling, the importance of preserving the fauna and wildlife through bees and the need to care for and save the oceans.
In addition, the Pocoyo website collects different and fun crafts (a bird feeder, a paper telescope, a plastic planter or musical instruments made from recycled materials), puzzles and a special activity book in Spanish and English, with stimulation and perception games to find the differences, labyrinths and other games, so that the little ones acquire sustainable habits for their daily lives that contribute to reducing C02 emissions.
Earth Hour was born in Sydney, Australia, 16 years ago and is already the largest global citizen's mobilization to show their commitment and leadership against climate change and in favor of environmental protection.