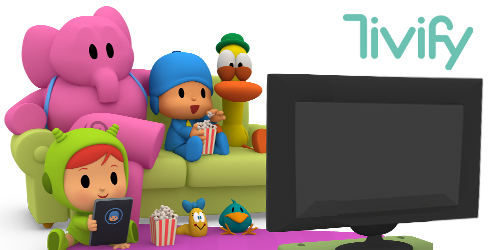 Pocoyo continues to grow, expanding and strengthening its presence on digital channels and platforms. Tivify, with more than 130 channels available online, has been one of the latest platforms to bet on Pocoyó, which will have its TV channel, and which can already be enjoyed on dial 113 of the platform. With this new addition, Tivify's streaming service continues to expand the catalog of free content.
The new channel of Pocoyo focused on children, will bring the adventures of Pocoyó and his friends closer to children, discovering the world throughout its four seasons, as well as special episodes and songs, with which to learn and have fun.
With the addition of Pocoyo, Tivify reinforces its commitment to offering its users channels created with its technology, The Channel Store (TCS), which allows any content editor to make its catalog available to users in the form of a television channel.
The platform has an app for all screens: TV (Android TV, Chromecast, Samsung, LG, Amazon Fire TV), mobile phones and tablets (iOS, Android, and Huawei), and PC (Google Chrome). The service is available in Spain and also offers the possibility to enjoy the platform when traveling to any country in the European Economic Area or the United Kingdom.