Pocoyo is on air on CCTV, the Chinese State Broadcaster
Children in China can watch and enjoy Pocoyo's episodes on CCTV Kids, the national TV dedicated to kids with the largest audience in the world.
All of Pocoyo seasons are being broadcasted in Chinese during prime time, reaching more than 250 millions of children.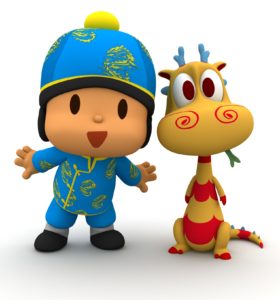 With this important achievement, Zinkia grows his presence in China, where Pocoyo brand has already a wide prominence. A few months ago, the first Indoor Park of Pocoyo was opened in the city of Shengyang.
The quality of the product and his educational orientation, have been crucial for Zinkia to reach an agreement with China Central Television to approve the emission in the country.
The Company is totally thrilled with this important milestone as the brand is strengthened in the largest market in the world for sale licensing and merchandising.