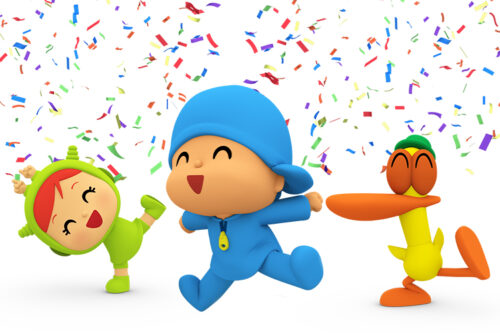 Pocoyo has established itself, year after year, as one of the children's brands with the largest audience and the best influence in the digital environment. A success that goes on the rise after beating their own records. After a historic growth on YouTube in 2020, with a 70% increase in views, Pocoyo again achieved excellent figures in 2021. During those 12 months, the brand's official channels reached 6,155 million viewed hours, a 15% increase, and 34 million subscribers, an increase of 27% over the previous year. Such is Pocoyó's success on YouTube that the channel extends to 16 languages, and has managed to snatch 7 Gold and 1 Diamond buttons .
In addition, Pocoyo's digital activity has brought good results to Zinkia's apps. With more than 15 million downloads in 2021, the character continues to be one of kids' favorite contents on major platforms.
On social media platforms, Pocoyo is also a phenomenon. On Facebook, it gathers a community of more than 2.4 million followers and 56,000 followers on Instagram. With 15 million downloads in apps for both iOS and Android, the character has achieved a total of 84.7 million downloads.
As for 2022, everything indicates that the brand will continue growing in the digital environment.
Pocoyó also continues to add new licensees. With more than 350,000 toys sold in Spain, Pocoyó is back on growth supported by the new product lines developed by Bandai and its traditional partners such as Comansi, Hoffmann, Musicales Reig, and El Corte Inglés, joined by Clementoni, CyP, among others. Meanwhile, LATAM's expansion is growing rapidly in Brazil, Mexico, Peru, Chile, and Argentina, where Zinkia is achieving double-digit revenue growth supported by its local licensing agents.
In terms of video games, Zinkia has released "Pocoyo Party", Pocoyó's first video game for PlayStation and Nintendo Switch, which has already sold more than 35,000 units in the first nine months. Designed to be enjoyed by the whole family, this video game is aimed at children between 3 and 5 years old. It includes six mini-games, and new episodes and recreates a fully controlled environment combining playful and educational activities.