Pocoyo's latest App arrives with Apple iOS 10 update
Pocoyo Stickers for iMessage is Zinkia's new App created exclusively for iOS 10 devices. The App is available on the App Store where people can download it and use it with their messenger service.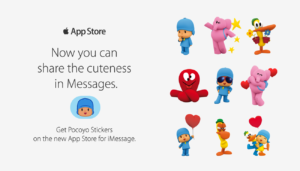 With this iMessage App, you can share the funniest Pocoyo's images with everyone you like. Each sticker is adapted to daily situations so you know what to say in any scenario. Birthdays, Christmas or friendship celebration, say it with Pocoyo Stickers!
There are two Apps available to download. A free App, with 6 cool Pocoyo images and a complete pack with 60 stickers for only 0,99$ to sweeten the conversation.
Pocoyo Stickers is already a success. Only one week later after the launching, it is one of the most downloaded Apps on the App Store for iMessage.