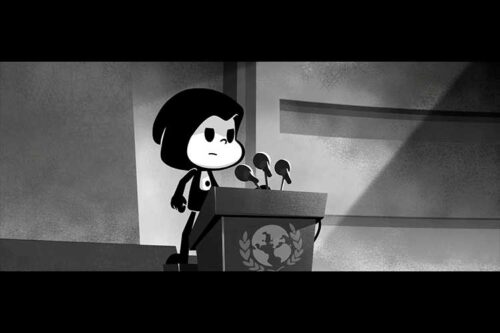 Pocoyó has taken a step forward to give life to Muchoyó and to be able to address the problems affecting millions of children and teenagers around the world. To demand that their rights are being respected, and to mobilize funds for projects to protect children. Six major entities – Children's Villages SOS, Educo, Plan International, Save the Children, UNICEF Spain, and World Vision – have joined together in a historic alliance called "The Children's Revolution" through a multimedia project, with a teenage language and a groundbreaking aesthetic that uses animation, fashion, urban art, and music.
Muchoyó's genesis is presented in an animated video clip, with breakthrough language, and a black and white aesthetic very different from what Pocoyó has us accustomed to. In the piece, the character embarks on a decisive journey through a grey and dark world, dominated by injustice and lack of rights, in which references are made to some of the problems that his group suffers: discrimination, child labor, sexual violence, or war. His journey ends in a symbolic place where Muchoyó sends his message to the world:
"We want to hear laughter instead of shouting. Feel affection and not fear. We want to play instead of fighting. Kill hunger, and not let hunger kill us. We want to heal ourselves when we get sick. We want to stop fleeing without knowing from what. We want to learn to read and not just to survive. We want to be listened to. "
And he warns: "Childhood has a voice"
https://youtu.be/6pT25mtxCpw
¡Muchoyó was created to raise public awareness of the importance of fulfilling children's rights, to amplify the voices of children and teenagers so that they can demand the fulfillment of their rights. It invites them to join their revolution through a manifesto song composed by 18-year-old NG from Alicante in collaboration with SFDK, which is available on all music platforms (Spotify, Itunes, Youtube Music).
Núria García, a. k. a. NG, scored millions of views in rapping "cockfights" when she was just 14 years old, where she faced older rappers with more trajectory. As a child, she listened to American rap without understanding what they were saying. It was enough for her to fall in love with hip hop, and to devote all her free time to rapping and writing her first lyrics, more out of personal need than out of artistic interest. With discretion and constancy, she has been developing her style and a legion of followers on Instagram.
The movement also has its flag: a collection of protest t-shirts with the slogan "YO SOY MUCHO" now available at CorreosMarket on request for 20 euros (shipping costs included). All the funds generated through the sale of t-shirts and streams of the song will be used to finance childcare projects of the six global organizations involved: SOS Children's Villages, Educo, Plan International, Save The Children, UNICEF Spain, and World Vision.
Thirty years after the Convention on the Rights of the Child
The right to education, housing, health, healthy food, to grow up in a family, non-discrimination, and participation are some of the rights that this movement makes visible through various media, such as infographics on current figures on children's problems or the manifesto with their demands are available on the website www.muchoyo.org.
Many issues have improved since the United Nations Convention on the Rights of the Child in November 1989, when, for the first time, Countries around the world recognized in an international treaty that boys and girls have the same rights as adults, who have their voice and representation.
But there is still a long way to go. Events such as the economic crisis of 2008, the climate crisis, and, more recently, COVID, and conflicts such as the war in Ukraine have led to a setback in children's rights.
Nowadays:
-Globally, 45 million children under the age of five suffer from severe malnutrition.
–426 million children currently live in areas of armed conflict, the second largest number in history.
–The number of girls and boys involved in child labor has increased to 160 million worldwide.
–1 in 10 children grow up without parental care or are at risk of losing it.
Data like this highlight that movements like Muchoyó are important and necessary.
"Muchoyó is much more than a character and content. It is an attitude that allows children to raise their voices and demand the fulfillment of their rights" says Jorge Martínez, the publicist and creator of the project.
"Muchoyó was an obligation for Zinkia and Pocoyó to fight for children's rights, to remember that children are the most important human heritage that exists and that it is the duty of all to take care of them" explains Víctor M. Lopez.
"Ensuring children's rights, putting an end to child poverty and all forms of violence against children call us to generously and resolutely build partnerships such as the one we are presenting today. In the context of major global challenges for children, six global children's organizations, a new global activist, Muchoyo, collaborators from various sectors, and, most importantly, children and teenagers, have joined as active agents of change. We want their voices to be heard around the world, to reach out to governments, businesses, the media, and society at large to make children's rights a reality", explains Javier Ruiz, CEO of World Vision and spokesperson for The Children's Revolution.