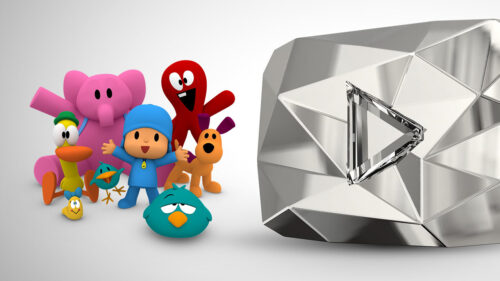 Pocoyo continues to break records on YouTube! Pocoyo's official Channel in Spanish, packed with educational videos and children's songs, has won the "Diamond Button" on YouTube, a recognition reserved for channels with more than 10 million subscribers. This shows the success and unstoppable trajectory of Pocoyo. Further proof that after 16 years of history, Pocoyo continues to be one of the children's characters with the greatest international projection and the greatest audience success, and one of the most influential brands in the world in digital media.
With this award, the channel reached a new milestone with an average of 125 million monthly views and 7,416,379,955 accumulated views. It also adds around 140,000 new subscribers every month. In terms of view time, the channel exceeds 35 million hours watched per month.
Created in July 2007, Pocoyo's Official Channel in Spanish is the first of Pocoyo's official channels – all of which have already surpassed the one million followers barrier – and the first to win this award.
Pocoyo's content consumption on YouTube soared especially during the months of confinement, reaching 540 million views in April, 2020, the highest as of that date; consumption that has continued to increase since then, as shown by the results achieved. Since joining YouTube, Pocoyo has accumulated a total of more than 32 million subscribers and has exceeded 27.7 billion views.