Si quieres leer el artículo en español haz click aquí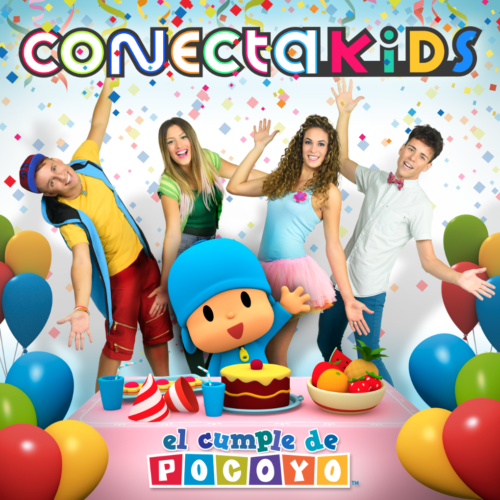 Click here or to see their new video "Let's go to Halloween"
Click here to watch the video of "Pocoyo's Birthday"
Conecta Kids is a children's musical group formed in Jerez de la Frontera, Spain, by two boys, Ariel and Paul DJ and two girls, Ana and Clara. They are four young showbiz professionals, that in 2015 published a promising debut CD titled 'Welcome to the party of CKDS'.
This year they present the CD 'El cumple de Pocoyo', their most ambitious project to date, which includes CD + DVD, 7 video clips in which for the first time Pocoyo and his friends interact with real characters and a tour with a musical spectacle. Their videos, hosted on the official Pocoyo YouTube channel are already a great success on the platform and their long awaited new album and tour will be one of the most important this Christmas and throughout 2018.
The video clips that Conecta Kids have made with Pocoyo and his friends, along with their respective trailers and the two previous videos, have already accumulated more than 65 million views on YouTube. The millions of Pocoyo fans have welcomed with great enthusiasm this collaboration that includes the songs "The birthday of Pocoyo", "A great chef", "Reggaetón of the animals", "The message of Nina", "Around the world " and this recently released new video "Let's Go to Halloween", one of the album's strongest songs that is sure to become a remarkable success.
CKDS and Pocoyo have collaborated previously. Pocoyo starred in the video clips of the songs "Conéctate al verano en Clan" and "Halloween", which accumulated 33 million views on YouTube and which were among the 10 most viewed music videos of that platform in Spain in 2015.
Conecta Kids begin their tour with a show and concert to celebrate Pocoyo's birthday, in which they will perform all of their hits and new songs with the participation of Pocoyo accompanied by his friends Pato and Elly in a great show to enjoy with the entire family.
On November 3rd the Pocoyo and CKDS album will finally see the light and include a CD with 11 songs and a DVD with the 7 videos they have collaborated on throughout the year.