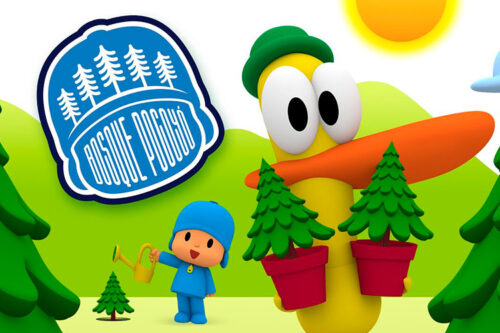 "Bosque Pocoyó" begins a new phase of reforestation to plant 3,000 new trees in the recreational area of ​​San José del Álamo, near the city of Las Palmas de Gran Canaria.
The planting of the 3,000 new specimens, which this second action contemplates, is carried out by Foresta (Canarian Foundation for Reforestation), in collaboration with the Cabildo de Gran Canaria through the Gran Canaria Economic Promotion Society (SPEGC). This new stage of the project also has the support of Fundación Aladina and its founder Paco Arango. Thus, in the name of Aladina, 500 specimens will be planted. Bosque Pocoyó, which began in November 2020 with the planting of its first 1,000 trees, also had the sponsorship and support of the Canarian musical group "Efecto Pasillo" and the promoter Javier Santaolalla.
Likewise, and thanks to a donation by Zinkia, the Cartoon Business digital animation seminar, recently held in Gran Canaria, will also have a representation within the reforestation project with a hundred trees planted in its name.
Recover the thermophilic forests of Gran Canaria
Of the 15,000 trees included in the project, with this new action in which a five-hectare plot will be repopulated, more than 4,000 specimens will have been planted of different species such as the wild olive, the Canarian palm tree, the juniper, the drago , broom, or seedlings and mastic. San José del Álamo is part of the Protected Landscape of Pino Santo, which is distinguished by its thermophilic forests and which has historically suffered significant deforestation. Only 2.6% of the more than 40,000 hectares of the island of Gran Canaria that are estimated to have once been covered by this ecosystem and its species are preserved.
After the fires of the summer of 2019 in Gran Canaria, Zinkia -producer of Pocoyo- and the Canarian animation studio KOYI Talent (which has recently been acquired by Zinkia), decided to promote and give life to the Pocoyo Forest in order to raise the awareness of caring for our environment, with a educational and playful approach. This initiative, aimed at combating climate change and leaving a green legacy for future generations, is the first natural space inspired by the internationally recognized children's animation series.
Bosque Pocoyó is an initiative open to any person or organization that wants to participate in the project and sponsor a tree. To do so, through www.pocoyo.com/bosque, a certificate is issued that identifies the specimen and guarantees the plantation, as well as its care through the first three waterings to insure its viability.