Si quieres leer el artículo en español haz click aquí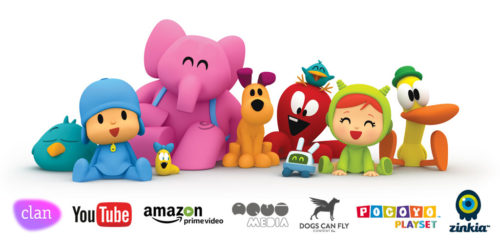 Zinkia closes 2017 the same way it started: with lots of good things to share. The broadcast of Pocoyo's last season on YouTube has just ended with resounding audience success.
Fortunately, good news has been with us throughout the whole year. In February, the app Pocoyo Playset: Let's Move, developed in collaboration with the North American organization HITN (The Hispanic Information and Telecommunications Network) received the award for Best Preschool Learning App for Tablet at the Kidscreen Awards 2017.
Shortly after, Zinkia introduced Nina and her pet Roberto, Pocoyo's new friends, one of the company's major focuses. Their official presentation caused great expectations and the fun adventures she shares with the group has captured both children and adults.
Midway through the year, the company gained momentum with the approval of capital increase, which allowed for the implementation of a strategic growth plan for the next five years with the aim of increasing the Pocoyo brand visibility nationally and internationally.
Pocoyo has continued growing in a number of markets. The Japanese public can enjoy episodes from the first three seasons of the series through various channels managed by Aqui Media, a Japanese media and marketing company. And very soon, the character will be present in new audio-visual platforms in the country.
In order to push the brand's development in Brazil, Zinkia has also signed a Master Agent agreement with the Brazilian company Dogs Can Fly Licensing, which has become its Licensing & Merchandising agent in the country. The first licences in this framework have already been signed and will be announced shortly.
Another novelty this year is the distribution of Pocoyo contents on Amazon Video within the Kids & Family selection of the streaming platform.
For next year, Zinkia foresees to continue making progress on new projects. In fact, Clan TV will begin emitting the last season of the series in 2018, which is already expected to be continued; the company expects to initiate producing new chapters the following year.
Lots of projects and good outlook for the next 12 months, which Zinkia meets with enthusiasm. We will let you know more in the near future, but until then, I would like to take this opportunity to wish you a happy and prosperous 2018 on behalf of the whole team here at Zinkia.
Alberto Delgado
Managing Director of Zinkia