If you want to read the article in English please click here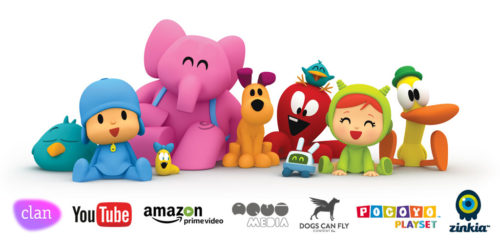 Zinkia cierra 2017 igual que comenzó, con muchas y buenas cosas que contar. Acaba de finalizar la emisión de la última temporada de Pocoyo en YouTube con un auténtico éxito de audiencia.
Pero las buenas noticias nos han acompañado a lo largo de todo el año. Así, en el mes de febrero la app Pocoyo Playset: Let's Move, desarrollada en colaboración con la organización norteamericana HITN (The Hispanic Information and Telecommunications Network), recibía el premio a la mejor App Preescolar Educativa para Tablet en los galardones Kidscreen Awards 2017.
Poco después Zinkia daba a conocer a Nina y su mascota Roberto, los nuevos amigos de Pocoyo, una de las grandes apuestas de la compañía. Su presentación oficial causó una gran expectación y las divertidas aventuras que comparte con el grupo han cautivado a niños y mayores.
A mediados de año, la compañía tomaba impulso con la aprobación de una ampliación de capital que le ha permitido poner en marcha un plan estratégico de crecimiento para los próximos cinco años, y cuyo objetivo es dotar a la marca Pocoyo de una mayor proyección nacional e internacional.
De esta forma, Pocoyo ha seguido creciendo en distintos mercados. El público nipón puede disfrutar de los episodios de las tres primeras temporadas de la serie a través de los diferentes canales gestionados por Aqui Media, empresa japonesa de medios y marketing. Y muy pronto el personaje estará presente en nuevas plataformas audiovisuales del país.
Para impulsar el desarrollo de la marca en Brasil, Zinkia también ha firmado un acuerdo de Master Agent con la compañía brasileña Dogs Can Fly Licensing, que se ha convertido en su agente de Licensing & Merchandising en el país. Ya se han suscrito las primeras licencias en este marco que se darán a conocer en breve.
La difusión de los contenidos de Pocoyo en Amazon Video, dentro de la selección Kids & Family de esta plataforma de streaming, es otra de las novedades del año.
Para el siguiente, Zinkia prevé seguir sumando y avanzando con nuevos proyectos. De hecho, en 2018 Clan TV comenzará a emitir la última temporada de la serie, que ya está previsto que tenga continuación, pues la compañía proyecta iniciar la producción de nuevos capítulos también el próximo año.
Muchos proyectos y buenas perspectivas para los próximos 12 meses que Zinkia afronta con ilusión. Más adelante os haremos partícipes de todo ello y, hasta entonces, aprovecho estas líneas para, en nombre de todo el equipo, desearos un Feliz y Próspero 2018.
Alberto Delgado 
Consejero Delegado de Zinkia